(See Picture Below)
Martin Julius Fingerson
Birth Date: 9 Feb 1877
Birth Place: Spirit Lake, Iowa
Death Date: 19 Jul 1919
Father: Knudt Fingerson (Fingarson) (1845-1914)
Mother: Isabelle Ingabor (Oleson) (1850-1925)
Spouse: Della Viola (Hollingsworth)
Children: Ernest Vermillon
Winford Willis
Leoni Viola
Ilo Belle
Martin Julius
Della Evelyn
Della Viola (Hollingsworth) Fingerson
Birth Date: 12 Dec 1881
Birth Place: Fort Dodge, IA or Merifield, MN
Death Date: 5 May 1924
Father: Levi Hollingsworth (1844-1931)
Mother: Ann Elizabeth Goss (1848-1926)
Spouse: Martin Julius Fingerson
Children: Same as for Martin J. Fingerson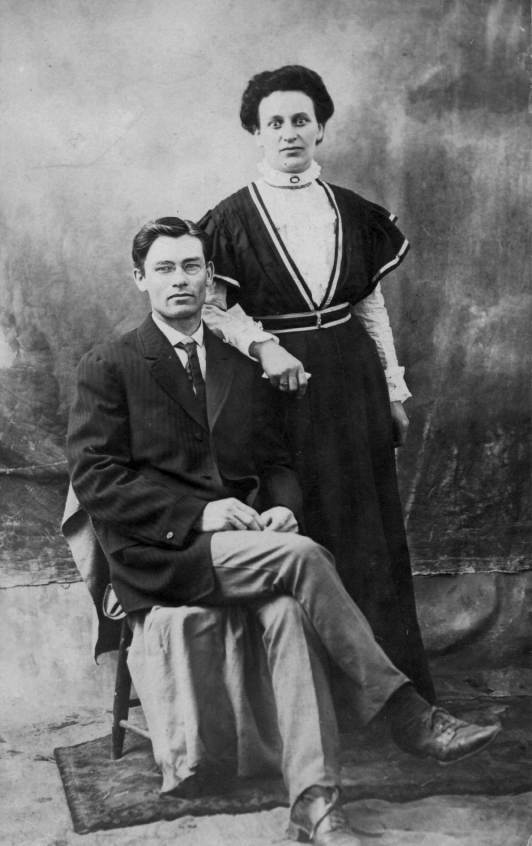 The following was written by Della in 1998: "I regret not jotting down some stories my brother, Ernest, related to me.
Ernest was the first child born to Martin Julius Fingerson and Della Viola Fingerson while they were homesteading in North Dakota. They lived in a sod house in the Flaxton area of No. Dakota. Moved there after marrying at Fort Dodge, Iowa.
Ernest told about Mama taking a shotgun to the field to shoot varmints as they pulled the grain roots down through the soil, thus ruining the crops. Don't remember how many acres they homesteaded, or how long they lived there. I believe one of Papa's brothers, Fred or Ole and his respective wife, also homesteaded there.
When they left No. Dakota, they went to Brainard, Minnesota. My Mother's parents lived in Minnesota. They opened a general merchandise store there. Winford, their second child, was born in Minnesota, the only one of six children born in a hospital."


Please send me any infomation you might have on Martin and Della Fingerson or any comments you have on this webpage.